ALL NEW! Bring your crafting out of the craft room and into your home with the Celebrate Today Magnet Board Kit!
The Celebrate Today Magnet Board Kit includes supplies to create a magnet board designed to organize aspects of your daily life in a beautiful way. With interchangeable messages, backgrounds, and envelopes, you can decorate your magnet board to best suit your style and needs!Kit includes:
*Predesigned projects
*Step-by-step instructions
*Precut pieces (No prep work! Get right to crafting)
* Makes 1 framed magnet board
*Enough adhesive to complete projects
* Includes 6 magnet clips
* Includes 2 image sticker sheets and 4 sentiment sticker sheets (1 each for the following languages: Dutch, English, French, and German)
* Includes 24 double-sided 4″ x 3″ (10.2 x 7.6 cm) cards
* Includes 2 sheets of 12″ x 12″ (30.5 x 30.5 cm) paper
*A 9-7/8″ x 6-1/2″ x 2-3/4″ (25.1 x 16.5 x 7 cm) printed designer box for storage or crafting on the go
* Coordinating colors: Basic Black, Blushing Bride, Flirty Flamingo, Melon Mambo, Mint Macaron, Smoky Slate
How fun would this be to gather a group of moms and daughters and craft these kits together!  Let me know and I'm happy to help you do this!  So Cute!!!!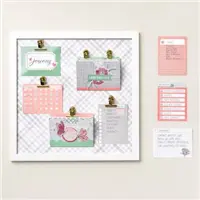 ---
Want it all??  Have a big wish list?  The BEST deal is always buying the Stampin' Up! Starter Kit!  $99 gets you $125 in Product Of YOUR CHOICE! 
I am blessed to lead an amazing team with members all across the United States.  My team consists of both business builders and happy shoppers!  The question I am most often asked about joining the SU family is – "do I have to sell?"  The answer is NO! You are welcome to be a happy shopper – and a smart cookie, I might add, to get all the products you love at the demonstrator discount!
Please contact me with any questions!  I'd love to have you join my "We'd Rather Bee Stampin'" team!
You will then enjoy 20% off all future purchases while you are active!  What have you got to lose?   The link to join is below!  The best part – there is no obligation to sell, or hold parties ever!!!  You can simply become a "happy shopper" and get discounts on all your Stampin' Up! purchases!  If you'd like to pursue this as a business and make a little extra money, I can help you with that as well!