Have you placed your Saleabration order yet?  Well if not – today is the day!  Saleabration ends tonight – so don't delay!
Already placed your order?  I'd take a look at the Saleabration Freebies just in case you see something you haven't gotten but now want!  Below are the items that you can get for free with a $50 purchase:
And these are free with a $100 purchase: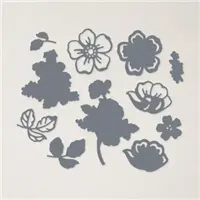 Have a big list?  Or have some friends that want to put a quick order together?  This word set is a wonderful mix of phrases and sayings perfect for cards!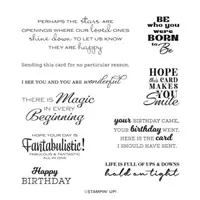 Here are some projects I have created during Saleabration – click on any of the photos to see the post where I've shared about them!
The Delicate Dahlia stamp set featured in this first card is a striking, yes?
And who doesn't love a great Black and White Color Combo?   The Beautifully Penned Designer Series Paper featured in the cards below is not to be missed!
These cards featured the Peaceful Prints Designer Series Paper – Free with a $50 order! I love the tree print and black/red check!
And the sheep! While the sheep dies are sold out, the sheep stamp set is still available – and such a fun set – these sheep just bring a smile to my face!
We all love the Penguins – the Penguin Place Designer Series Paper has been super popular  – I think mainly because of it's coordination with the Penguin Place Bundle in the July- December Mini Catalog.   The Penguin Place Bundle is available through the end of December – but the paper goes away today – be sure to get it now while you can if you plan to purchase or have already purchased the bundle!
I love that this Penguin was punched directly from the Penguin Place DSP!  Quick and easy! My kind of stamping!
Want it ALL??  To get  the best deal of all, you should  purchase the Starter Kit today!  I purchased my Starter Kit over 21 years ago – and it's one of the best decisions I have ever made!
I would love to have you on my team!!   We are a growing and fun group of ladies from all across the country and we would welcome you!  Whether you want to build a business, or just be a "happy shopper" and enjoy the demonstrator discount, we have a spot for YOU on our team!
Questions? Please get in touch with me ASAP if you are thinking of joining – I'm happy to answer any and all questions!   But again, don't delay – this special starter kit promotion ends today.
---
Want it all??  Have a big wish list?  The BEST deal is always buying the Stampin' Up! Starter Kit!  $99 gets you $125 in Product Of YOUR CHOICE! 
I am blessed to lead an amazing team with members all across the United States.  My team consists of both business builders and happy shoppers!  The question I am most often asked about joining the SU family is – "do I have to sell?"  The answer is NO! You are welcome to be a happy shopper – and a smart cookie, I might add, to get all the products you love at the demonstrator discount!
Please contact me with any questions!  I'd love to have you join my "We'd Rather Bee Stampin'" team!
You will then enjoy 20% off all future purchases while you are active!  What have you got to lose?   The link to join is below!  The best part – there is no obligation to sell, or hold parties ever!!!  You can simply become a "happy shopper" and get discounts on all your Stampin' Up! purchases!  If you'd like to pursue this as a business and make a little extra money, I can help you with that as well!  
---